Feeling Thankful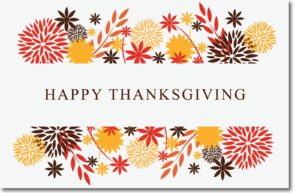 We are feeling pretty thankful this week as we celebrate the Thanksgiving holiday.  Here is our gratitude list:
-Our families who support our work and fulfill us
-Our clients who help us find the best loan package and rate for our customers
-Obviously, our customers who trust us to help them find the best commercial loan
-The beautiful state of Utah where our office is located. I look out the window to majestic mountains every day and I LOVE it.
-Freedom and our country
-Food
-High Credit Scores
-Money to lend.  Money to borrow.  Money to invest.  Money that pays to cover our basic needs and the things we desire.
-Calendars that keep us organized
-Technology that keeps us up to date and in contact with our customers, clients and loved ones; and that helps us perform immensely better in our work.
We want to thank those who have made this year a great year!  We are so grateful for our loyal wonderful customers who often feel like friends to us!  As the year comes to an end, we are still ready to tackle any project you may have so call us today to get it going while there is time!
Happy Thanksgiving to you and yours!