Declaration of Independence = Articles of Organization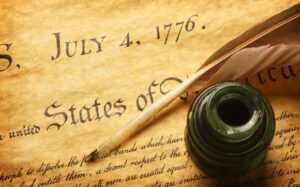 We sure hope your Fourth of July weekend was full of patriotism, gratitude, and lots of fun!  The Fourth of July is one of my favorite holidays of the year.  I love the warmth, the break from responsibilities, the patriotism, parades, flags, food, fireworks, traditions, etc.
Did you know that the Declaration of Independence was authored by a committee of five?  This committee included Thomas Jefferson, John Adams, Benjamin Franklin, Roger Sherman, and Robert Livingston.  Thomas Jefferson just 33 years old at the time, was the main author.  In many ways, the Declaration of Independence was much like Articles of Organization which we use in the commercial business world on a daily basis.
Thanks Mr. Jefferson for showing us that it's never too early to tackle our dreams and start a new business and adventure.